Lower Gowanus Expressway and Belt Parkway i

n

Region 11, NYSDOT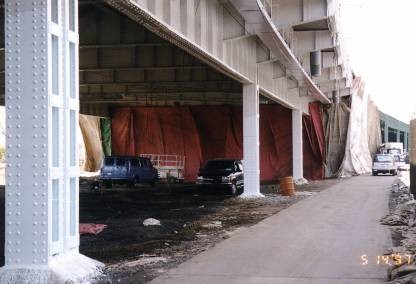 B & H Engineering, P.C. has provided construction inspection services, as a sub consultant, to the New York State Department of Transportation. The construction inspection services consist of performing field inspections, monitoring containment system, lead content (act and soil), monitoring work zone traffic control, coordination with MTCCC, MTA, NYC agencies, TBTA and other contractors; reviewing contractor's Health and Safety, schedule, equipment and staffing; monitoring contractor's EEO requirements; conducting wage rate interviews; processing payments and change orders; and maintaining office records.
The project included cleaning and painting of 10 bridges; Lower Gowanus Expressway between 7th Avenue and 92nd Street, and Belt Parkway (Coney Island Viaduct), Kings County. Work consist of blast cleaning sell surface and using class "A" containment system; painting of steel superstructure and pier columns with three coat system.