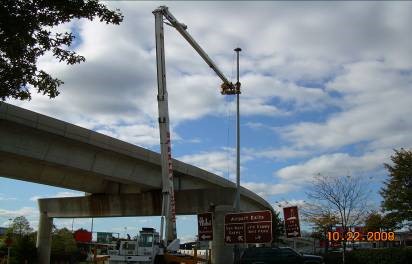 B & H Engineering, P.C. has provided 2007 and 2008 condition survey of the JFK International Airport Signs and Lighting Structures, as a prime consultant, for the Port Authority of New York and New Jersey.
Services included: field inspections, quality assurance, reporting of flag conditions, final report, planning and scheduling inspection; coordinating inspection with ongoing construction contracts, Airlines with air side inspection and the Facility; renting equipment, providing and monitoring work zone traffic control on the Airport service roads.
B & H Engineering has also performed 2007 condition survey of high mast towers and lighting structures at JFK International Airport.
Condition Survey of JFK Airport High Mast Towers and Lighting Structures, PANYNJ